Jamie Headon 16.5 CrossFit Open Tips and Strategies
The final workout of the 2016 CrossFit Open aka 16.5 has been announced and it's a blast from the past. The workout is a repeat of 14.5 that most of us will have struggled through two years ago. The workout is 21-18-15-12-9-6-3 of Thrusters and Burpees. Just like the other workouts, it is crucial to go into 16.5 with a strategy, especially those who are looking to ramp up their scores and finish of the CrossFit Open with a bang. As always, before you start make sure to check the movement standards which you can find at the bottom of the page. If you missed Jamie's tips on how to take on 16,4, check them out here.
Warm up
In your warm up, make sure to mobilise as much as possible, primarily focussing on the Front Rack and Overhead position. You will be spending a lot of time in both of these positions as this workout requires a high volume of Thrusters. To do this I recommend:
Using Bands
Foam Rolling
Overhead Squats (Find a good locked out position and get comfortable sitting at the bottom)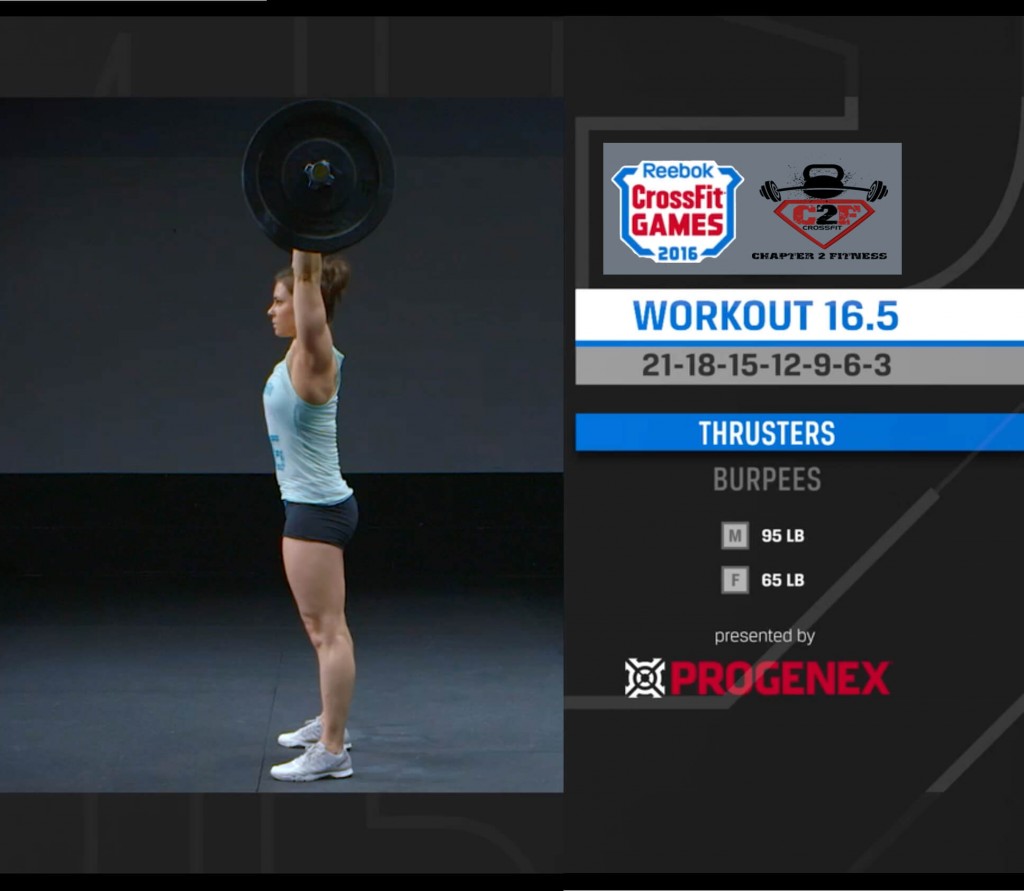 Thrusters
Thrusters are what will give you good time or break you on this workout.
Ensure you are Catching the Bar on your Shoulders – The main reason for the suggested mobilisation/warm up is to make sure that you do not struggle at all dropping the bar down and catching it on your shoulders with this exercise. Make sure you are not dropping it on your wrists
Breathing – Make sure you are not holding your breath and only breathing out at each press
It's Ok to take a Breather – If you are taking a breather make sure to do it while in the Overhead position instead of the Front Rack position as it can restrict your breathing.
Don't put the Bar Down – Try to put the bar down as little as possible and go unbroken if you can. If you know this isn't possible and you are choosing to break up the workout, make sure to have a strategy for this based on what you know you can do.
Go Hard – This is where you will make your time on this workout
Have a strategy and stick to it. Think of something you can definitely do. Don't just be making it up when your in there.
 Burpees
Try do Burpee Step Ups – This will reduce the amount of time you spend stepping up to the bar. See what they look like here.
Keep Moving – If you can, keep moving the entire time!
Get on the Bar – As soon as your finished your Burpees, pick up the bar and start repping.
Finally if you took part in 14.5 two years ago, LETS BEAT THAT TIME!
Check out the video below to see Jamie covering 16.5 and his description of how to do your best.
You can find a full list of all all the different versions including scaled versions of 16.5 of the CrossFit Open here. Also if you haven't seen Jamie's blog on tips you can apply to the whole Open, make sure you check it out now before you take on the final workout. These tips can also be applied to your day to day training. Check out Jamie's 5 key tips on doing your best in the Open. Best of luck!