Name : Jamie Headon
D.O.B: 11/12/92       Age: 23
Occupation: Head Coach Chapter2Fitness
Home Country/County: Ireland/Dublin
Current CrossFit Irish Ranking: 1st
Current CrossFit European Ranking: 40th (open 2016)
Jamie started Coaching in Chapter2Fitness in May 2014. His primary sport has always been rugby. Jamie played on the SCT in 2011 for St. Michaels College and after school played for Old Belvadere Rugby Club for two years
"Myself and Gary Burns set up Chapter2Fitness in April 2014. We set out to provide a mix of classes that incorporate vigorous strength training, Metabolic Conditioning and a platform to learn a wide variety of skills from; base line gymnastics to Boxing training. I am currently a Crossfit Competitor but all my training in done out of C2F. From hitting bags, flipping tyres, lifting barbells to climbing ropes I believe no other gym can provide the benefits our programming offers".
Jamie's interest in training comes from the importance of "movement" rather than just lifting weights.
Jamie is the Head CrossFit coach in Chapter2Fitness. His programming is designed to provide the tools to push your physical and mental limits. The training and programming can be adapted whether you want to recover from an injury, lose some weight, learn some basic skills or improve your fitness to become an elite athlete. "To me it's not just going to the gym, its pushing your body to new limits and constantly learning new skills and tricks"
Jamie's motivation to be a coach stems from seeing people improve and achieve their goals. He is constantly trying to increase his knowledge in CrossFit, S&C, and nutrition to become the best coach and athlete that he can be. CrossFit is Jamie's primary sport. He is regarded in CrossFit Circles as one of the top competitors in Europe.
Competitive Achievements
National Competition:
2014 – RDS Fitness Expo Dublin – ranked 3rd
2014 – Irish Throwdown – ranked 2nd
2014 – CrossFit Ireland Competition – ranked 1st
2015 – CrossFit Open – Ranked 1st
2015 – Crowned Irelands Fittest Man by CrossFit Global Inc.
2015 – Team captain Filthy 150 team event – ranked 2nd
2016 – CrossFit Open – Ranked 1st
2016 – Crowned Irelands Fittest Man by CrossFit Global Inc.
2016 – Irish ThrowDown – ranked 3rd
2016 – Irish Waterford Stadium Throwdown – ranked 1st
International Competition:
2015 – Italian Throwdown Milan – Ranked 9th
2015 – Athlete Games U.K. – ranked 26th
2015 – CrossFit Open Europe – ranked 67th
2016 – CrossFit Open Europe – Ranked 40th
2016 – French ThrowDown – ranked 1st
2016 – Amorak East Side Challenge Poland – ranked 2nd
Educational & Coaching Qualifications:
2011 – Graduated from St. Michaels
2011-2014 – University College Dublin
2011- B.Sc. Hons. Sports & Exercise Management
2014- CrossFit Level 1 Coaching
2014- CrossFit Weightlifting Coach
2017 Goal- Qualify for the Meridian Regionals Individual Male.
2017 Goal- Qualify a C2F Team to the Meridian Regional Team Division.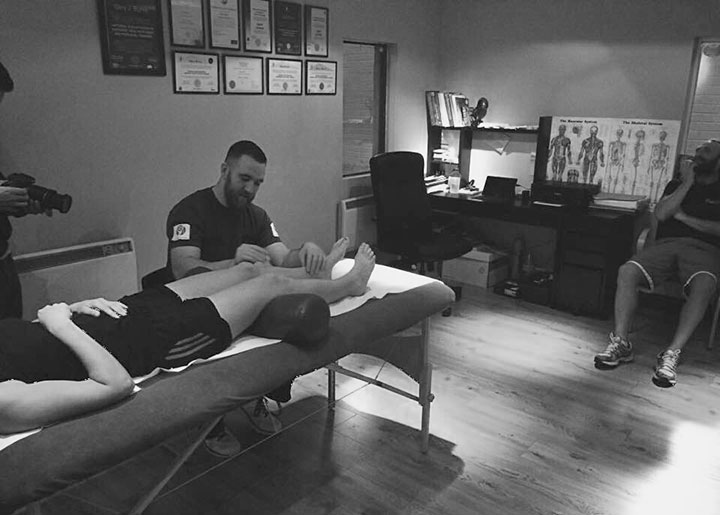 Name: Gary Burns
Age: 33
Occupation: Manager & Coach Chapter2Fitness
Home Country / County: Ireland / Dublin
Gary and Jamie, set up Chapter2Fitness in April 2014. Gary's primary sport was boxing, having trained out of 3 different boxing clubs on and off since he was 13 years old, He retired from competitive boxing in 2012 as Dublin Champion at 91Kg and Leinster Runner up at the same weight that year and turned to coaching. Gary is a fitness Instructor, Personal Trainer, Strength & Conditioning Coach and IABA Boxing Coach. He is also our Physio and runs Motion Matters, our on-site Physical Therapy  Clinic which he founded in 2012.
Gary has a broad range of qualifications and expertise which allows him to utilise a wide range of programme design and training techniques.
"Myself and Jamie teamed up to open a centre better and different to the rest. I felt that with Jamie's background as a successful Crossfit Coach and his massive achievements as a competitor that he and I could bring together the perfect combination of classes and programmes incorporating different aspects of our varied sporting, educational and coaching backgrounds"
Gary has worked with a wide range of Clients from beginner get fit enthusiasts, to individual Athletes and Sports players to Elite Athletes and with a wide range of Sports Teams including Cabinteely Football Club, De Le Salle Palmerstown Rugby F.C and the Garda GAA Football Club. Gary currently works with the Strength & Conditioning team at St, Michaels Colleges where he develops and coaches the S&C programme for their Junior and Senior Cup Rugby teams along with Jamie.
Educational and Coaching qualifications:
EQF Level 4 Personal Trainer
EQF Level 3 Fitness Instructor
NCSC Strength & Conditioning Coach.
Member of REPS Ireland (Register of Exercise Professionals)
IABA Level 1 Boxing Coach (Irish Amateur Boxing Association & Coaching Ireland)
Physical Therapist
Neuromuscular Therapist
Trigger Point Dry Needling Therapist
Orthopaedic Sports Massage Therapist
Member of ANMPT (Association of Neuromuscular Physical Therapists).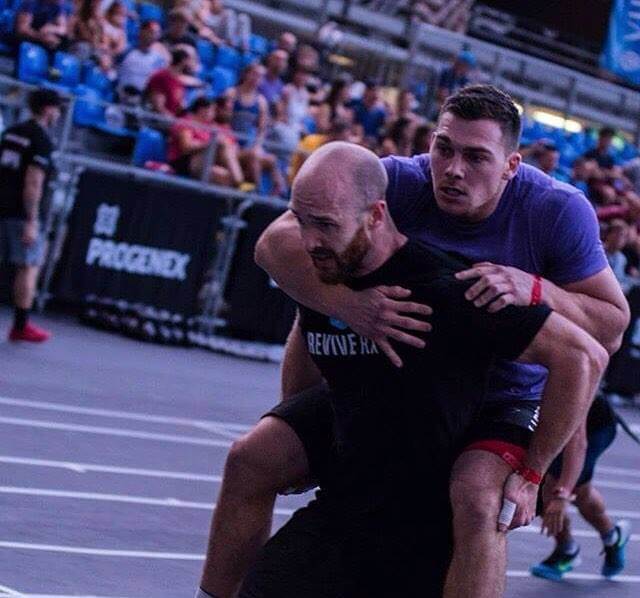 Name: Andy Ewington
Occupation: Mad Lab systems manager,  Athletic Programme designer and Coach Chapter2Fitness
Home Country: New Zealand
Qualifications: 
OPEX L1 Associate Coach – Nutrition, Lifestyle, Assessment, Program Design, Business Systems
OPEX L2 on journey coach.
Andy hails from a small town in New Zealand where he grew up on a farm. He was a keen sportsman with Cricket, Hockey and Rugby as his main sports. Hockey became the main focus where he won provincial and national titles in New Zealand. In late 2009 Andy came to Ireland for his first stint playing hockey for Monkstown HC, where he went on to win Leinster, Irish (breaking a 99 year drought) and European medals with the club. He has also spent time as a player/coach in Italy.
A regular gym user, Andy found CrossFit in 2010 and never looked back. Every day boasted a new challenge and a huge array of skills to learn, develop and master. Early on he began following 'The Big Dawgs Blog' from OPT (now OPEX) and followed this by getting personal coaching from OPEX coach Matt Bryant to focus on his Hockey. As he began to focus more on his coaching, the next obvious step was to take OPEX CCP Coaching course to develop his knowledge. Andy is Irelands only Qualified OPEX CCP Level 1 coach and one of only two in Europe.
" The OPEX course took my coaching to another level. Having experienced it myself working with Matt Bryant, I knew it was the right direction to go. My main focus as a coach is to meet people where they are at and offer them a training program completely designed for them that aligns with their highest priorities. I love to work with people who just want to look and feel good; to boost their health so they can fully enjoy the lifestyle they choose. When someone begins working with me, the goal is I will educate them so they no longer need me. Everything they learn will be sustainable and enable them to live a long, healthy life. "
With his massive experience and boasting his qualifications unique to Europe and Ireland, Andy is quickly earning a reputation as one of the Countries top coaches. As a result of his coaching success, Andy has racked up a strong portfolio of clients including our own Jamie Headon, Irelands no.1 Crossfit Athlete and Irelands "Fittest Man" 2015 & 2016, along with several other top CrossFit Athletes both in Ireland and abroad.  Andy is also the go to guy for programming with several other gyms both in Ireland and the U.K. availing of Andys services to programme for their clients.  Andy joined the coaching and management team at Chapter2Fitness in 2017 where his focus is on doing some competitive CrossFit but mainly working on developing his coaching and athlete portfolio. He still receives all of his training through his Coach Matt Bryant.
Andy's strength is providing individualized programming that can be done on-site under his guidance, or if you can't make it to train with him, his programming can also be done in your local gym. He will help you evaluate your goals and figure out a training plan that fits your lifestyle
Name: Iain Goulding
DOB: 25/08/1993
Occupation: Coach Chapter2Fitness
Home Country: Dublin Ireland
Iain Started coaching in Chapter2Fitness in August 2016 after completing his B.Sc (Hons) degree in Sports Coaching and Performance from the Waterford Institute of Technology. Iain won all major schoolboy soccer titles during his teenage years winning All Ireland and Dublin titles with Belvedere Fc. Iain followed this up by playing semi professional Football for UCD AFC and Wexford Youths Fc in the Airtricity League of Ireland. During college Iain spent 6 months as a Sports Science Intern at Ipswich Town Football club in England upon returning home he combinded coaching and playing with UCD AFC at all levels.
"I love crossfit because when I was growing up I liked playing all different sports and crossfit is exactly that its loads of sports put together and every day is different. As a coach I get greatest enjoyment from coaching complete beginners whom have never steped into a gym before. I see first hand the benefits of crossfit and the confidence that comes from getting involved. It's so much more then just an hour once or twice a week it gives you confidence in all other areas of your life"
Education and coaching qualifications:
2012- Graduated from Oatlands College
2012-2016- Graduated with B.Sc (Hons) Sports Coaching and Performance
Coaching Awards
Crossfit Level 1 Certfied Coach
Olympic Weightlifting Ireland Level 1 assistant coach
FAI Kick start 1 and 2
Athletics Ireland assistant coach level 1
Cycling Ireland level 1
Conor Headon
Conor is our "Wisest" coach being in his late 40's and is our Masters Class Coach. This class is structured ideally for those who are aged mid to late 30's into late 50's. Conor has always liked to train with people in his own age group and now likes to coach people in his own age group. This ensures that everyone in his classes has plenty in common and similar levels of strength and fitness which creates a really welcoming, team like environment. Conors now famous saying is:
"let the boys train with the boys, the men will train with me!"
Conor is himself a keen sports fan with particular interest in Rugby, Boxing and Judo and has coached in these three sports. Conor is a member of Blackrock Rugby club and has attended several Leinster Rugby Courses and is a Certified IABA Boxing coach.